As you already know the newest Android OS is Jelly Bean. It build upon Android 4.0 Ice cream Sandwich with bunch of cool features. This is a quick overview of those new and cool features which comes with Android 4.0 Jelly bean.
Project Butter and Launcher
Comparing to IOS, a major drawback of Android is the non smooth interaction. And even Google knew that. Hence they launched Project Butter which will lead to gain a butter smooth for Android. So here that introduced with Jelly Bean. You can watch the bellow video to get the right idea.
Even tough there are many launchers available in the play store nothing can beat the stock launcher anymore. Now it can re-size widgets to fit to the screen and other icons. Also it can automatically align and arrange home screen icons according to your icon movements and widget sizes.
Prediction System and Languages
More likely to Swiftkey, new Jelly Bean's keyboard can predict and suggest you the next word to type.
The voice to text feature got a major update which is leading you to use that even without a active data connection. Also Google added new 18 input languages including Arabic fonts.
Camera App
Letting you to navigate your photos right from the camera app, Android had a major update to the camera app with Jelly Bean. As expected you can use pinch-to-zoom feature to navigate within your photos. If you want to delete a photo that you don't want anymore simply you can wipe that photo out. Don't worry it has a undo option too.
Android Beam
Ice cream sandwich have a nice feature which is allowing you to share links, YouTube videos, contacts, play store apps and etc using NFC technology. Android team have dedicated a good improvement for this feature. Now onwards you can use Wi-Fi apart from NFC  and share even more files directly between any Jelly Bean devices.
Notification System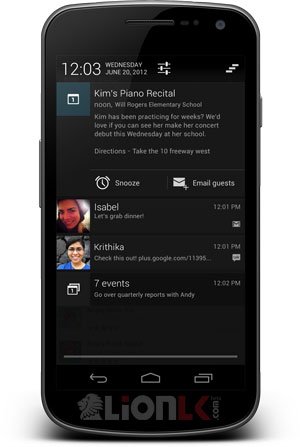 Beating the IOS's and Windows phone's notification system Google have introduced the next mortification system era. You can intact with the notifications and do lot more things. replying to messages using pinch-to-zoom, call your friends and many more..
Google Search
Merging Google's Knowledge Graph and Android they present a new search experience to Jelly Bean users. Even you can ask question and get answers from Google using updated voice search which is similar to Siri.
Google Now
Get real-time notifications with Jelly Bean. Where ever you are Jelly Bean will update you with the relevant information using your search history, calendar entries and other personal information. When you are near a bus station it will provided you the quickest way to your home or to the destination with the real-time bus schedule.
Smart APK
With Jelly Bean, Google has introduced App encryption. The app will be encrypted before the download begins and once it is downloaded on the device as well. Smart APK Updates will allow you to download only the updated parts of the APK and not the whole APK. This will help in not only reducing the size of the APK updates, but will also reduce the bandwidth usage of your data connection.