After we installed a fresh copy of an operating system on our computer the browsing speed of the browser is pretty good. But after few months later the browsing speed becomes slow and laggy. This happens because of browser history, cache, addons and such things. If you try to clear cache and remove addons you will soon understand that is not a solution for this problem. But fortunately we have a easy fix for this as follows.
Usually Firefox keeps its data on SQLITE databases. When we use Firefox it collects more data and the result is a continuously growing database. So it surely leads to slowed version of the browser. As I mentioned before there is a solution for Google Chrome and Mozilla Firefox. Obviously it is a software called SpeedyFox. You can download the software at the end of the article.
According to the developers SpeedyFox can speed up your slowed browser three times. Its pretty fair right ? Not only Chrome and Firefox, this will speed up your Skype also.
Once you have installed the software open up it. You will get a window like this.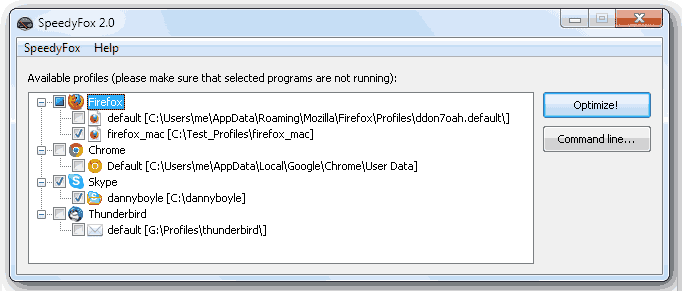 At there you can select your browsers and it's profiles. I recommend to select all for get most out of SpeedyFox. And hit on Optimize.
After few seconds you can enjoy the fresh speed of your optimized browsers.