Deep web or dark web has been around for a while now. Generally, we use Tor, the Firefox based web browser for accessing the deep web. It is the most secured and reliable way of accessing the deep web.  It provides you with the anonymity and security that you would necessarily need. To use it you would have to download the software from their website and install it on your PC. But if you just want to access the deep web and browse some .onion sites you do not necessarily need the Tor browser. There are many web based services which provide the same functionality. In this post we are looking at How to access deep web onion sites without using Tor.
In case you haven't heard of Deep web, dark web or .onion sites here is a brief description.
Deep web is a part of the World Wide Web whose contents are hidden from the common web and search engines. Basically it is an overlay network over the Internet. Further, it is an encrypted network exists between Tor service and Tor clients. This infrastructure has it's own services such as Web, Email and IRC. The web service use .onion domains instead of using .com or any other top level domains (TLDs).
Access deep web onion sites without using Tor
Following web based services let you to access deep web onion sites without using Tor browser. They act as a gateway  or a proxy which connects you with the onion service via Tor and relays. These services are called Tor2Web. It is a project that enables users users to access Tor Onion Services without using Tor browser. You can visit the project website here.
This is one of the most popular tor2web services out there. They offer a chrome extension for easy access of their service. Using onion.link is easy. It acts as a search engine. You just have to enter whatever the query you want to search on the search box and hit enter. They'll provide a list of results that can be accessed via open web.
Or else, if you know the .onion URL of a particular hidden service you just have to append .link to the end of the URL. And you are good to go.
That means, If you want to access http://duskgytldkxiuqc6.onion/ via open web, just replace .onion with .onion.link. So the new URL would be http://duskgytldkxiuqc6.onion.link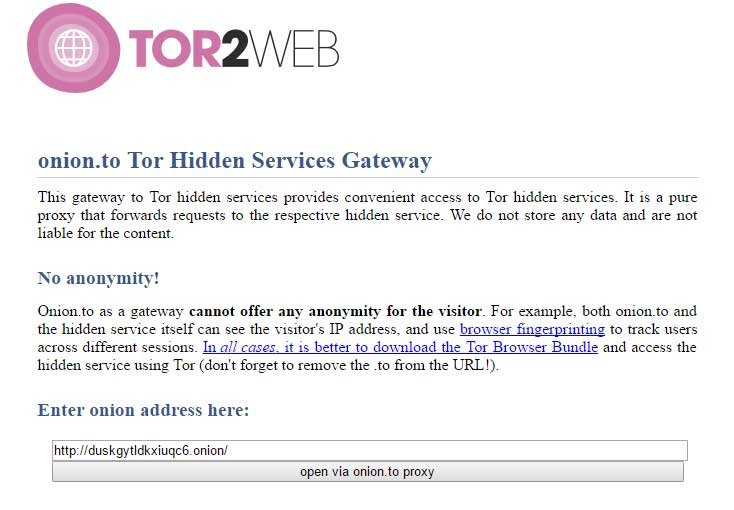 This is another service that provides the same functionality. To use this service, visit the page and enter .onion address on the text box. Then click on "open via onion.to proxy" button. The site will now redirect you to the entered deep web site.  Repalicing the .onion with .onion.to would also work, assiuming that you have a correct deep web link.
Even though they use HTTPS for providing the service, there is a big notice saying that they do not provide any anonymity. And they might use browser fingerprints to track users across different sessions.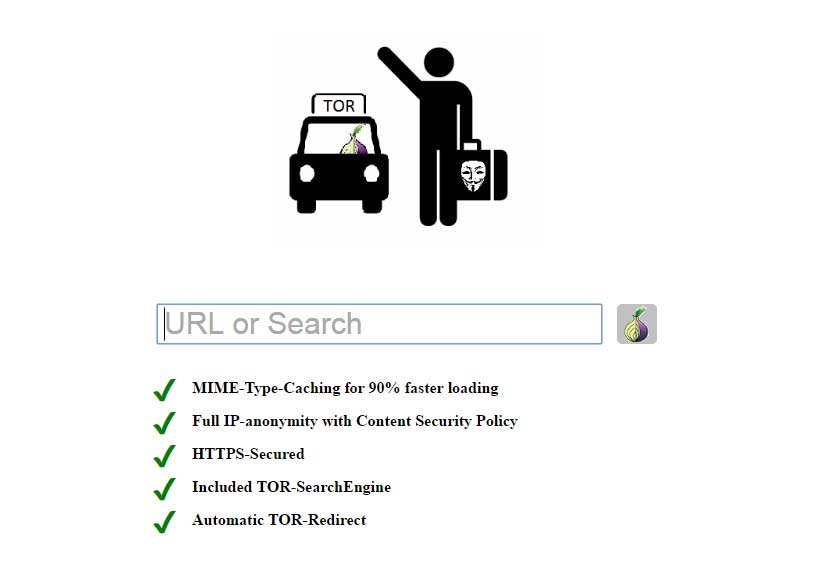 Onion.cab uses SSL on their site. That means the coonection between you and onion.cab is encrypted and HTTPS-secured. They use caching techniques to provides you with a faster service. They cache static contents on their servers making it even faster than native Tor network. It also works as a tor search engine. They claimed to provide full anonymity and content security.
They provide a redirection service to onion.cab URLs. If you visit onion.cab URL on a Tor browser, you'll be redirected to the original deep web .onion site. So webmasters can maintain a single URL to their service on the open web as well as on the deep web.
This is yet another to way access deep web onion sites without using Tor. onion.gq is quite new, yet provides a stable service. To access onion sites using onion.gq, you just have to append .gq to the onion URL.
For an example, If you want to access onion search engine "not Evil" hss3uro2hsxfogfq.onion, append .gq to the end of the URL as hss3uro2hsxfogfq.onion.gq.
If you are a webmaster and up for creating a site like this, they provide their source code to download.
Conclusion
Most of the Tor2Web services were designed to protect site owner's or publishes while giving readers the advantage of accessing the hidden web via normal web browsers. Hence, these services can see your browser information as well as IP details. It is up to service providers to keep those details private and secured. If you are more concerned about your anonymity, I suggest you to use Tor browser bundle which gives you much greater anonymity and confidentiality than Tor2web services.