Mozilla is aggressively changing their web browser's behavior recently. The newest change is, you will now need signed add-ons to install. Firefox will not allow you to install third-party unsigned or unverified add-ons. This post shows How to install unverified add-ons in Firefox.
Mozilla's ultimate plan is to sign all add-ons and verify each and every add-on that can be used with Firefox is safe and secure. Mozilla will begin requiring all extensions to be signed and will be mandatory for all extensions, regardless of where they are hosted. Bellow is their timeline for this change.
Firefox 40-42: Firefox warns about signatures but doesn't enforce them.
Firefox 43: Firefox will have a preference that allows signature enforcement to be disabled.
Firefox 44: Firefox will not allow unsigned extensions to be installed.
If you try to install unsigned third-party extension/add-on on Firefox you will get the following error.
Firefox has prevented this site from installing an unverified add-on
So here is how to override Firefox core settings and this is how to install unverified add-ons in Firefox.
Type about:config in Firefox address bar. You will get the following screen. Go ahead and click on "I'll be careful I promise!" button.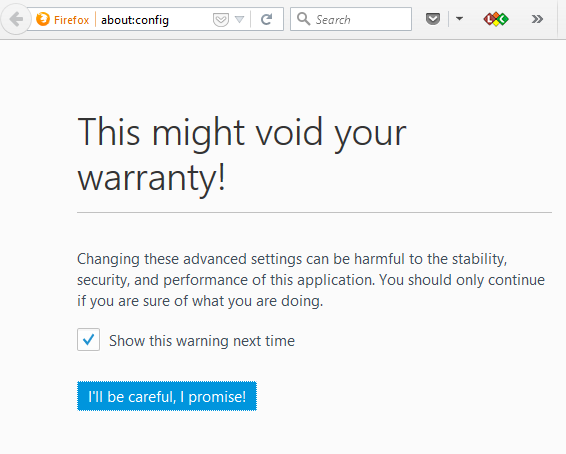 Now in the search bar type following string.
xpinstall.signatures.required
Now double click on filtered result and change the value into false.

To be certain just restart the browser. Now you should be able to install unverified or unsigned add-ons in Mozilla Firefox.
But remember, It is always wise decision to use only signed and verified add-ons with Firefox. Most of the people face a Firefox memory issue in the recent past.
Read More : How to Reduce Firefox Memory Usage using about:config
Most of these issues come with junk add-ons. So now Mozilla has made their decision to keep out all junk and provide you with a better browser. It is up to you to respect that decision and get the most out of Firefox.
If you are a developer you can sign your add-on by visiting addons.mozilla.org. The documentation can be found here.