Its been a long time since Microsoft released their newest Operating System , Windows 8. However still the most popular Operating System in the world is Windows 7. We have been using Windows 7 since 2009. But we experience same icons, same visual style, same gadgets everyday. This should be kind of boring thing to experience. If you want to feel the difference of newest styles but still want to hang with Windows 7, here is your chance. There are many visual styles, icon sets that you can use with your existing Windows 7 installation.  Here I listed most glorious and Best Skin Packs for Windows 7 .
By using these skin packs you can transform the look of your Windows 7 installation to other latest operating systems like MAC OS X Mountain Lion , Android, Ubuntu and so on. So no more same look for everyday. You can start your day with new look of your windows.
Read More : 12 Cool Windows 7 Shortcuts
Windows 8 Metro UI for Windows 7
This is a software called WinMetro by famous IObit company. This enables you to Enjoy the New Metro Look on Windows 7 computers. By using this you will be able to  faster access to your programs and files. This software is very informative and provides you weather, calendar, news, stocks details right on your desktop. The best thing is this is free to download and use.
Apple Mac OS X Mountain Lion Skin Pack for Windows 7
The best this about Mac OS X is its stunning user interface. Everybody love the look of mac operating systems. Now windows users also can transform their user interface to the look of Mountain Lion.
This supports all windows 7 and Windows 7 Sp1 systems. Make use you choose the relevant version among 32-bit and 64-bit versions.
Download Mountain Lion Skin Pack for Windows 7
Transform the Windows 7 to Ubunut 11.04 Natty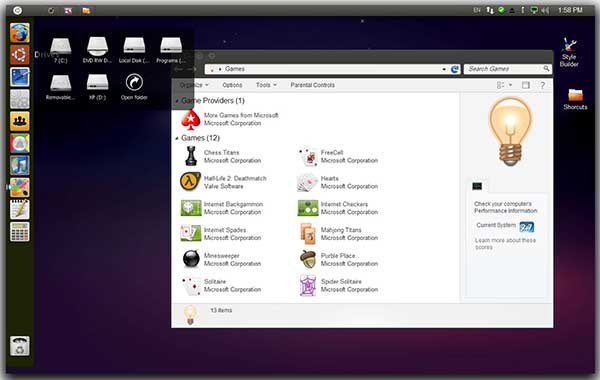 Ubuntu has become competitive OS in the Operating system market. If you are a Ubuntu user but want to use Windows 7 in some situations you may feel uncomfortable with the Windows 7. Here is a way to change windows 7 UI to Ubuntu 11. So you may not feel any huge difference while  using the PC.
Download Ubuntu Skin Pack (32 bit)
Download Ubuntu Skin Pack (64 bit)
AlienWare Skin Pack for Windows 7
This is very famous Skin Pack that you can use with your windows installation for free. This is a complete skin pack for your windows 7. This come with its own icon pack, login screen and style.
Download (32-bit) AlienWare Skin pack
Download (64-bit) Alienware skin pack
Dark Neon Skin Pack for Windows 7
If you prefer dark style for your desktop this is the skin pack you must use. This skin pack has a nice combination of colors and glow effects. You will get Rocket dock and Shadow for dark interface along with this skin pack. Neon Skin Pack also has the its own skin pack and boot skin.
Download Neon Skin pack 32-bit
Download Neon Skin pack 64-bit
Those are transformation packs for windows 7. You need to install those transformation packs for accomplish the goal of changing the look of windows. If you don't want the new look you can simply uninstall the transformation pack. But it is better to backup your system before you proceed with the installation. This is highly recommended. Enjoy these Best Skin Packs for Windows 7.