Here are some best browsers for Android. All these browsers are free. Initially most of the people use default web browser for android.
Since we have much more flexible and more functional third party apps we do not need to stuck on to the default browser. So take a look at these…

Opera's fastest mobile browser that can save you money on data. Totally free.Try the world's fastest Android browser!
– FAST: Opera's speed and efficient controls put it ahead of all other browsers.
– EASY: Surf the Web on your mobile as easily as on a desktop computer.
– SAVE MONEY: Reduce data costs by up to 90% with our unique compression technology.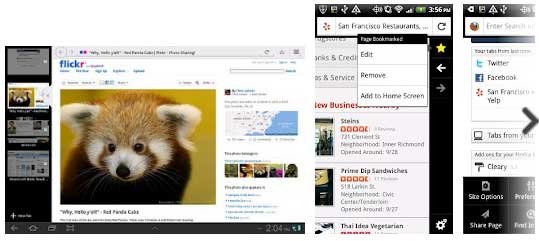 The Mozilla Firefox Web browser brings the best of desktop browsing to Android, now optimized for the way you browse on tablets. Best of all, it puts the Firefox you know and love at your fingertips. It's fast, easy to use and customizable, with the latest security and privacy features to help you stay safe online.
he speed and simplicity of Chrome, now on your Android phone and tablet.Browse fast on your Android smartphone or tablet, and bring your personalized Chrome experience with you anywhere you go. Chrome for Android is available, initially in Beta, on Android 4.0, Ice Cream Sandwich.
By PC Magazine selected as one of "The 10 Tastiest Apps for Ice Cream Sandwich"
Based on the stock ICS browser, this browser adds some handy extra functions:
* Auto text reflow after pinch to zoom
* Option to create extra quick controls (with easy to use quick controls editor. Add up to 3 rings, with extra controls like bookmark page, close other tabs, share etc etc)
* Possibility to set the User Agent string
* Fine tune quick controls behavior
* Option to use volume keys for scrolling
* Home button on action bar for tablets
* Gesture support.
More and more functions will be added along the way.
UC Browser, your choice along with 300 million people
Stop wasting your time for website loading, try UC Browser, the fastest, smartest mobile browser, the largest mobile browser worldwide, 300 million users' choice in 150 countries.
Boat Browser – Browse the world in an easy and smart way.
Boat Browser is a fast, smart and cool browser; it will bring you amazing premium web experience.
Boat Browser is the first web browser that supports voice command in Android, for example, if you say "Facebook" or "Google" it will open the corresponding website. Boat Browser is fully customizable, you could easily change the button's location as you like, furthermore, you could install your favorite add-ons to make your browser more powerful.
Boat Browser Mini is a fast,clean and ease of use android browser.Boat Browser Mini is a fast, simple and pretty web browser, which will bring you better user experience on Android.
Dolphin Browser HD is the FASTEST, EASIEST and most FUN mobile Web browser
Dolphin Browser is the world's first Gesture, Sonar and Add-on enabled mobile web browser on Android.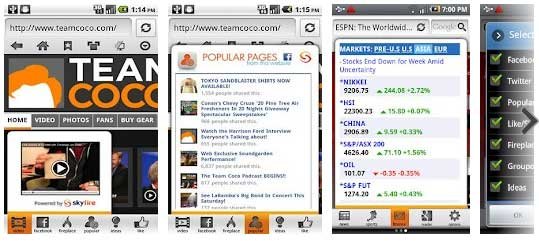 Skyfire Browser makes your mobile web experience richer, smarter and more fun!
Skyfire is the world's smartest & most social mobile browser!
TechCrunch – Best Android Apps of All Time (Ranked #2)
Appolicious/Yahoo – Best Android Apps of All Time (Ranked #2)
World's fastest & smartest android browser – fast, secure & free.
***Fastest and smartest mobile web browser/Android browser***
xScope is a fast way to browser the internet. Try in 5 minutes to find it out
Ninesky is the most suitable browser for Android mobile.
It is smarter and faster than other browsers. Ninesky pays more attention to your Internet security and protection of personally private data.
300,000,000 USERS HAVE CHOSEN IT
QQ Browser is absolutely indispensable for your Android phone.
You can operate multiple pages quickly and easily with one hand.
Angel Browser is a multifunctional, convenient browser.