Artificial intelligence is taking over the world. Yes, It is true. Artificial Intelligence should not be something like in the movie Transcendence. Think, We are used to get help from various automated systems for our day today life. Your washing machine turns off after washing your clothes. Your Microwave oven doesn't burn your house. But still those are not human. The most relevant example is your mobile phone. It can act as an artificial intelligence. yes, you can have a conversation with your phone, you can operate your phone by just talking to it and so on. To do so, here are the best available Artificial Intelligence Software for Android.
Recently we have discussed few Artificial Intelligence software for Windows. As those tools there are many Artificial Intelligence like personal assistant apps for android phones. Best thing about these Artificial Intelligence Software for Android are all these apps are voice activated, and can run almost every feature in your smart phone such as sending mail, making a search, opening apps, reporting the news and weather.
Speaktoit Assistant is the most downloaded and most rated in this category on the Google Play Store. Assistant has many features that an AI should have. In addition to answering your questions and performing tasks it remembers you, it understands and learns from you.

You can easily interact with this app using natural English language. The app is well customizable. It works with many popular services such as Google services, Twitter, Facebook, Foursquare, Evernote, Yelp, TripAdvisor, Wikipedia, IMDB and Amazon.
Skyvi (Siri for Android)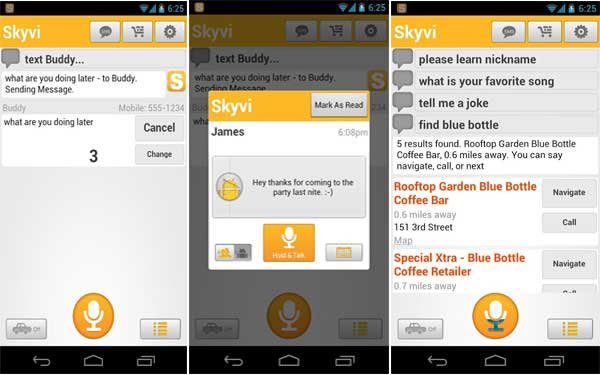 Skyvi is yet another voice controlled Virtual Assistant for Android phones. This app also can do all basic things from sending mail to reporting news. Other key features of Skyvi include voice texting, finding places and social media updates. And yes, you can have fun chats, witty remarks and tells jokes too.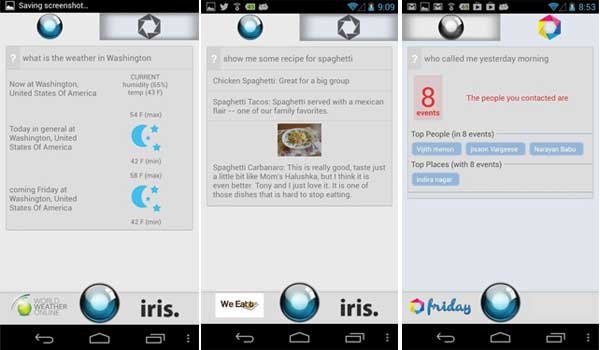 If you love Apple Siri and could not find any alternative for your android phone, At least this app has its name (ya, backwards). It is one of  the oldest Artificial Intelligence Software for Android. The UI is very straightforward. You can get help from iris to play music, set alarms, update social media and retrieve call information. Another thing, iris can tell you about the horoscope too.
It seems app developers are much more confident about there product. However Sherpa is another AI like assistant for your Android. This app has many features to help you with your routine life. If you like chatting with your phone, may be this app suits for you. You don't need to memorize commands as it works well with natural language.
This app has a pro version too. But free version is enough to judge it's functionality. Currently the free version has ability to manage major phone functionality like Call, SMS, Email, Alarm and it can interact with services like Translation, Navigation, Facebook, Google and many more.
Robin is another great option you have. It is helpful and fun. You can ask Robin for directions and places, It can update your Facebook and Twitter and also it can provide you with latest news and information. The developers name Robin as the Siri challenger. So, worth giving it a try.
This app is designed to answer your questions. Evi has a learning and adapting intelligence. It can not handle your phone, but can answer you with relevant and accurate information.
Maluuba is another option that comes under the topic of artificial intelligence software for android. Manage your phone using natural language. You can ask about Sports, Restaurants, Movies, Calling, Music and many more things from this application.