Most of the services on the internet are free of charge. But they need some small details of you like your email address, name and so on. Actually our email address has become a very important thing in our lives. So it can not be considered as a small thing.  So giving our your email address to untrusted free services on the internet is always a big deal. As you know there are spammers all around the world. They may collect your email address from those free services and they can spam your inbox. Even though you can delete spam mails it is very disgusting to have a spammy inbox instead of having a clean and professional one. So here is a solution for this by creating a disposable, fake and instant email address for registering those services.
You need to know there are some free services on the internet which collects email address and sell them to spammers. Most of the websites do that for gain a extra profit from their websites. So you need to think twice before giving out your email address to other websites. Disposable email address are instant and temporary email address that can use to register web services without risking your private email address. Here are some fake email generators I found on the web.
10MinuteMail
This is a very popular and easy service when we talk about fake email addresses. You will get a randomly generated email address and a inbox for that email. The default validity of the given email is 10 minutes, as you clearly see on the website title. How ever you can still request more time as 10 minutes blocks.
Airmail
Airmail is a similar service to 10minutemail.com. You will get a randomly generated email address here too.  Most importantly you can check your temporary inbox with different devices and different times by visiting the URL of the page. The active time of this email address is a whole day. So you can use it without worrying the expiration much.
Guerrilla Mail
If you are seeking for a more powerful yet easy way to accomplish our goal this is the website you want to visit. Guerrilla Mail is one of the best services for creating instant fake email addresses. The best part of this service is you can use your own username and select one of the eight mail servers they have provided.
So your fake email won't be look like fake. The lifetime of this mail is unlimited.  Further more you can compose email and attach file to it from this website too.
Fakeinbox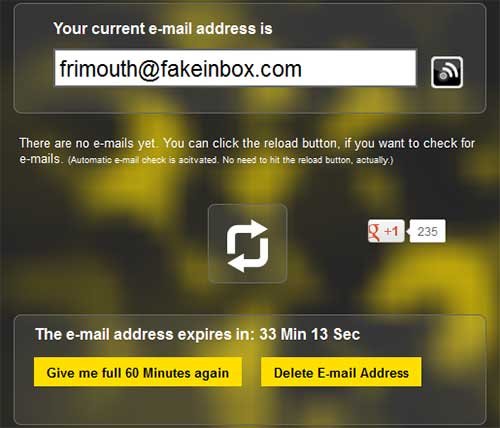 Fakeinbox is a easy way to create a fake disposable email address just only hitting a button. It will give you 60 minutes to use the generated email address. If you want more time also you can gain another 60 minutes easily.
YOPmail
This gives you a inbox with a 8 days valid period. But you can not send emails from this services. You do not need any passwords or registration to access your inbox. So this is a good way to create a disposable, anonymous and free email address.
Easytrashmail
This service is somewhat different services that others. You can generate a fake instant email with a selected valid period of 10 minutes to one month. But there is no inbox to check emails that you receive. You need to provide your real email address in order to receive emails. Easytrashmail will forward emails to your own inbox.
Conclusion
So you can see there are many services to protect your real email address. But do not use these email services to professional works or fool others. There are some problems with these kind of email services. Some popular websites has blocked these mail servers. But you can still use these with many purposes.