It has been said that music is a universal language. No matter if you are European, Asian or African we all can enjoy music. Most people believe that geeks don't interest in music. According to me its not true. They also interested in music, a lot. Nowadays whole music industry is depend on computers and technology. Musicians produce tracks using new technologies. If you look at the industry closely you will see some artistes who are actually depending on computer tricks and have no talents at all. However, do you have an interest in music production? At least playing an instrument ? In this post I have mentioned some popular and useful virtual online music instruments that you can try online. You don't need to install any software or plugin. Just visit the page and play.
As the name suggests this is a virtual piano. Compared to other applications in this subject this tool is kind of rich. You can do many things using this piano. You can record what you play, use music sheets and change the piano style as well. keyboard shortcuts to the piano keys will appear by pressing "Key Assist On" button on the piano interface.
This is very popular virtual instruments website. It has many instruments such as guitars, drums, cubes and also mixers. The interesting fact is you can produce some good dubstep with the help of ButtonBeats' amazing tools. Select the instrument that you want to play from their homepage. Use mouse or keyboard controls to make some noise. You can record your music sessions by using recording feature in the main menu.
There are many features you need to look in the website. I must say there is a little learning curve, but you can manage it. This is a track produced using ButtonBeats website.
If you want to play drums, this is the website you might want to visit. There are many options such as Drum Games, Drum Machine and Drum Lesson. If you are lookin for a place to learn how to play a drum, this website has quite impressive lessons from the beginning to the advanced tricks. There is a nice feature called Drum Machine which enables you to record drum loops just like in FL Studio, the popular music composition software. Not like other tools virtualdrumming.com is well organized and has a attractive interface. If you are an iOS user you can use their iOS app too.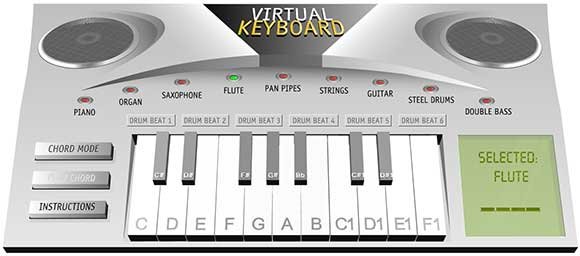 This is not very advanced application, yet you can make some music. Using this keyboard you can making tunes with effect of different instruments. Available instruments are organ, piano, saxophone, flute, drum, guitar, and pan pipes.
Well, there is a vast number of online apps to play various instruments. I have only mentioned a few online music instruments. I may have forgot some interesting tools. Just let me know in the comment section bellow.