Are you a guy who shares your personal computer password with your friends ? And do you still need to protect your PC from them ? Here is an option for you. You can Lock your PC using a USB flash drive. That means you don't need to type your password to unlock your Windows computer. You can simply insert the usb drive and unlock. If you leave your pc alone, just unplug the USB. Your PC will switched to lock mode instantly. This is really a fast and interesting way to lock and unlock your computer. Further this will lead you to have some additional security to your Windows PC.
There are many software that are made for this purpose. Here we have list best software for Unlock and Lock your PC using a USB flash drive. You need to download one of following software and configure your pen drive first. The process of configuring the USB drive may differ according to the software.
Predator is one of the best free software available for this purpose. It simply converts your USB pen drive to a key that can be used to unlock and lock your computer. Predator has several very useful features. It can protects more than single PC with a same USB drive. If you have more than one user account in your computer, Predator can protect each of them separately.
You do not have to worry about login attempts to the computer when you are using this software. Predator can show you failed log in attempts even with a webcam picture. It also send you an email if anyone tries to access your locked computer. Another interesting feature that predator have is, You can set it to buzz a siren if somebody enters an invalid password.
Apart from above security features Predator can be used to limit the time to access the computer. You can define time periods when each user may access the computer.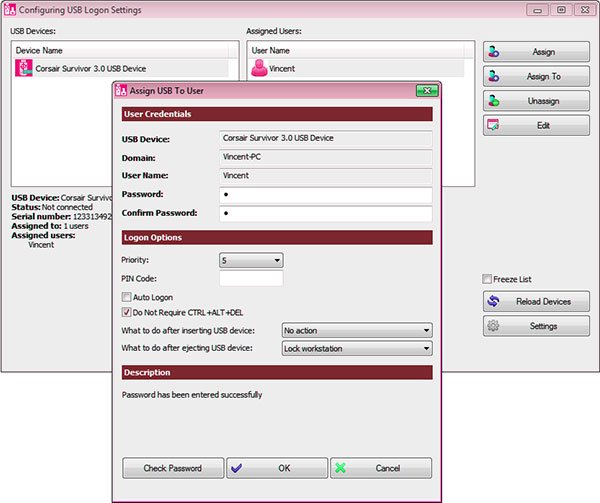 VSUsbLogon is a great alternative to previously mentioned software, Predator. This tool enables you to replace the typical password based login system of windows with nice and cool USB key. You can insert the previously configured USB drive and unlock your computer with this software. VSUsbLogon supports any kind of USB drive such as USB external hard drives, USB flash drives and USB enabled mobile phones.
You can set an action like lock, log off, hibernate, shutdown or restart the computer when you plug or unplug the USB stick.
This is another Free Software to Lock your PC using a USB flash drive. WinLockr is a portable software. In addition to lock and unlock your computer this software will lock your keyboard and mouse too. That leads to add some extra security over your PC. You need to hit a key combination for unlock the keyboard. Then only WinLockr will allow you to type the password.
If you prefer simplicity USB System Lock might be your choice. This is another free and open source software that can lock and unlock your PC with the help of a USB drive. You can use any USB storage as the key.