Using Keyboard Shortcuts is an efficient and a professional way to use computers. We can have lot more advantages. As we all know there are tons of keyboard shortcuts that we can use in our day today life. We recently published an article with 100+ Windows shortcuts. But there are some other really cool and fancy keyboard shortcuts that you can use with Windows. Read the followings…
1. Ctrl+Shift+N | Create a New Folder
Yes, As same as we use to create a new document in all other software, you also can use the same shortcut for create a new folder in windows. Just go to desktop, Press Ctrl and Shift with N and try it !
2. Ctrl+Shift+Click | Run a Program As Administrator
You don't need to right click and select Run As Administrator anymore. Click on a start menu item while pressing Ctrl + Shift.
It will lead you to open the particular program as administrator.
3. Shift+Right-Click | Extend Send to Menu
See the following picture. Also your Send To menu like that right ?
If you send your files to My Music folder or My Pictures folder, it is not possible. But if you right click on an item while pressing Shift key you can get a massive list like bellow.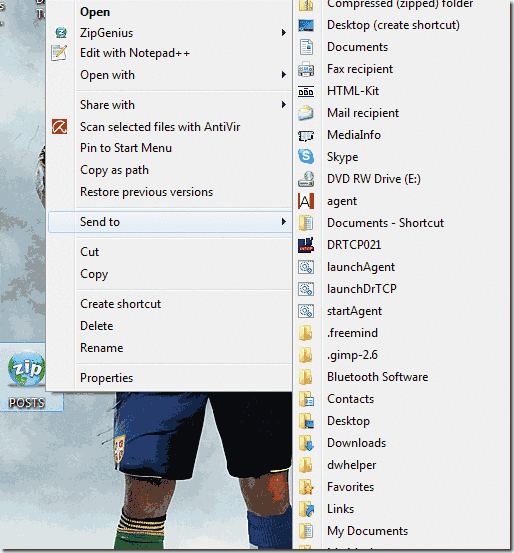 4. Shift+Right-Click on a Folder | Open Command Prompt
Some times (Specially when learning Java) we need to go to a directory from CMD. So we type "CD" and so on. But that is so hard isn't it ?
If you need to open CMD in where ever you want just go to that folder and right click while pressing Shift key. Now you can see a menu item saying Open command window here.
5. Win+Space |  Show Desktop
There is a small portion on windows 7 desktop at right bottom corner to show desktop. You can access that feature using Windows Key + Space Bar.
6. Win+Up/Down/Left/Right | Move the Active Window
Just try it an get the idea. press the windows key and one of arrow keys. Try the rest of arrow keys too.
7. Win+T | Show Taskbar Items
You could use the key combination Win+T to toggle through the applications pinned on the taskbar and also running applications in Windows 7.
8. Shift+Click on a Taskbar Item | Open a New Instance of the Application
Just think you are working on firefox with hundreds of tabs and suddenly you need to open a new tab. But your current Firefox is too busy. Try to click on the firefox icon on the taskbar with Shift Key. It will open up a new Firefox. Also work for other applications.
9. Win+B | Move Focus to the System Tray
Ever wanted to control volume without using mouse ? One answer is Here. Other is Press Windows Key and B key then use arrow keys to navigate within system tray icons. After you select just press Enter to use it.
10. Win+1, Win+2… | Opening Taskbar Programs
See your task bar. If you press Win+1 it will open up the first item on the task bar. If you press Win+2 it will open up the second item on the task bar and so on.
11. Win+Pause | Check System Properties
Press Windows Key and Pause key to quickly fire up the system properties window.
12. Ctrl+Shift+Esc | Windows Task Manager
You can access the Task Manager in Windows XP using Alt+Ctrl+Del.But Microsoft has changed that to something ugly. But you can still access Task Manager by using Ctrl+Shift+Esc