Facebook chat has become a popular communication media among vast amount of Facebook users. Facebook has the messenger mobile application which enables you to keep in touch with your contacts. While you are using your desktop or laptop you can use Facebook website to access the chat. But the problem is we might not be able to use Facebook all the day. In this case we can use a chat client software for Facebook. In this post we are going to discuss few Best Facebook Chat Software for Windows.
Facebook had a desktop version of Facebook Messenger. But Facebook has discontinued support for it. However many chat clients are available that gives you same features. A small problem we saw with some of these software is they use their own chat stickers. If you send some one a sticker using a third party application, the other user might not see the particular sticker unless he is using the same application. But who cares ? You can still text !
Digsby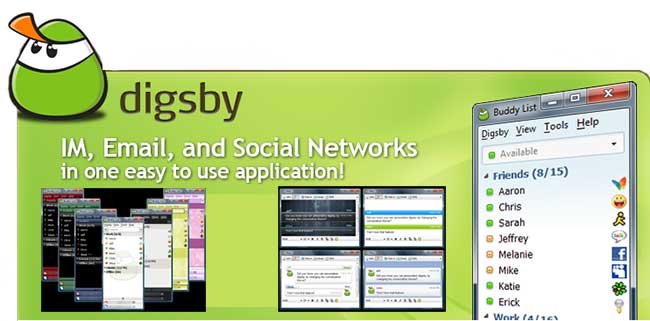 Digsby is on of the powerful software which can manage your all social media without any hesitation. Of course you can enable facebook chat and chat with your friends. You will not miss any of your messages since Digsby keeps you online and updated every moment.
You can connect other social networks such as twitter and Google Plus with this social media client. Even you will be able to check your emails and respond to them while commenting on others Facebook statuses. Download Digsby.
Chit Chat For Facebook
Chit Chat is another free Facebook chat client software. It allows you to chat with your Facebook friends from the desktop. Once you have connected to the application you do not need to browse Facebook for chatting. The software setup and connecting process is pretty straightforward. Chit Chat can play audio notifications whenever a chat pops out. So you won't miss any important message. Download Chit Chat.
Trillian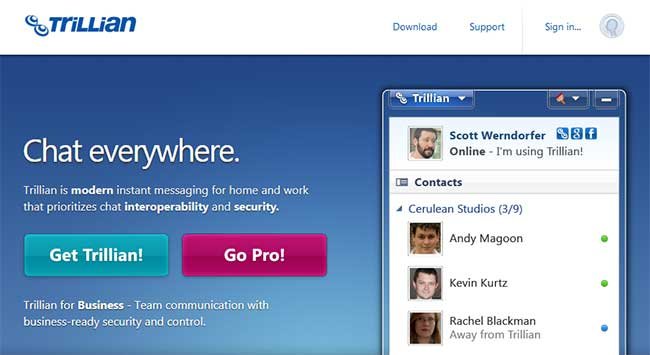 Trillian is another Best Facebook Chat Software for Windows. It has a very clean and clear user interface. Setup process is very simple. But you need to create a Trillian account prior to connect Facebook. This software supports many other IM services including Google and MSN. Trillian has a pro version that comes with few extra features and extra security. Download TRillian.
ICQ
ICQ is one of the oldest IM client for windows. This is very powerful chat software. You can connect Facebook chat with this. There are many themes available for ICQ as well. ICQ can exchange files too. Most importantly, ICQ has a great web version. It allows you to access your account anywhere and any computer. Download ICQ.
Nimbuzz
Using Nimbuzz for PC you can connect with your existing Facebook account. Nimbuzz also has a web version. You need to have a Nimbuzz account in order to access its features. Nimbuzz has many features like exchanging photos and files. Most popular feature of Nimbuzz is chat rooms. You can define your favorite contacts too. Download Nimbuzz.
Skype
Yes, you can use Skype as a Facebook chat client too. But most of the people use Skype as their personal messenger while Facebook is just for fun. If you are in that category you may not want to try this. Apart from that Skype is another Best Facebook Chat Software for Windows. Download Skype.